The 3rd race in the 6 race series was held July 16th. The race was well attended and we welcomed new racers: Brad Biggs, Gab Daigle, Serge Hache to the series. The race results have been added to the 2016 Cap-Pele Race Series points. Full Live RC results with all lap times are posted to the LiveRC site. Race summary:
2wd Buggy: 2wd buggy had a field of 9 racers start in the A-Main.  After  a fairly clean start the field battled for position. Part way through the race Jeremy declared "I think I'm broken" but continued to race util the car finally gave out. Serge and Gaetan fought each other for their spot on the podium.
2wd SCT: In this closely matched race all racers were in contention for the lead. Serge and Patrick exchanged places for 2nd/3rd, Serge put pressure on 1st many times. Jeremy held off the charge and was able to get over the line for the extra lap while the rest raced for the podium.
4wd SCT: The largest class of racers were broken into an A and B main. George was able to fight for the win in B and was bumped up to the A-Final. In the final the first half was a back and forth race between Shane and Stephane. Stephane began to have some issue with his truck and Shane began to set his sights on Gregg. Gregg held off the charge to finish 1st with Shane 3 seconds behind. Stephane finished the race with 3 wheels!
1/8 Buggy: At the start of the race Gaetan jumped to the lead with Shane in hot pursuit. Throughout the race there were a lot of position changes between all racers each lap making it exciting to watch. One story was Chris battling his way up from 6th to 4th just off the podium. Another story was Dave with his first time out with a newly built car working his way up to the 3rd spot. In the end the finish was Shane, Gaetan, and Dave.
1/8 Truggy: Truggy is a growing class and had a large 7 racer field. Shane got the holeshot at the start of the race and never looked back. There was a huge battle between Gaetan, Serge, and Patrick for the 2 remaining podium positions. Those 3 racers were determined to get those 2 spots. Lap after lap there were wild position changes where someone would go from 2nd to 4th and then back up again. When the dust settled (literally) the finish order was Shane, Gaetan, and Serge.
1/8 Nitro: The story here was Shane gave Adam's buggy a tune up before the race which seemed to help a lot in the final. They ran a 15 minute final to give them some pit experience and practice with fuel conservation. The race finish order was Shane, Dave, and Adam.
2wd Buggy (A Main)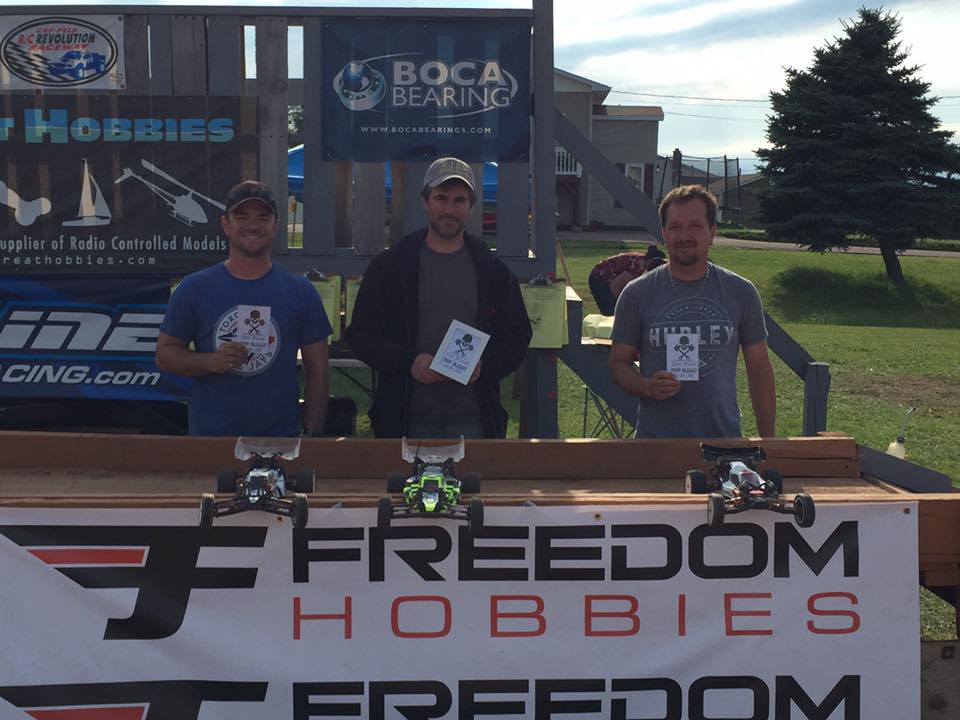 | | | | | | | |
| --- | --- | --- | --- | --- | --- | --- |
| | Driver Name | Car | Result | Fastest | Average | Top 5 Avg |
| 1 | Gregg Lawton [TQ] | 1 | 10/6:24.669 | 36.997 | 38.680 | 37.405 |
| 2 | Serge Hache | 3 | 9/6:26.544 | 37.606 | 43.124 | 39.700 |
| 3 | Gaetan Frenette | 5 | 9/6:38.476 | 39.409 | 44.532 | 40.306 |
| 4 | Jeremy Sherriff | 2 | 9/6:42.396 |  37.287 | 44.711 | 36.022 |
| 5 | Stephane Doucet | 6 | 8/6:08.255 | 39.823 | 46.377 | 44.236 |
| 6 | Dave Robinson | 4 | 8/6:09.066 | 40.852 | 45.306 | 43.357 |
| 7 | Mike Belanger | 7 | 7/6:41.347 | 41.579 | 57.590 | 46.544 |
| 8 | Mathieu Leblanc | 8 | 6/6:04.880 | 49.756 | 1:00.130 | 1:00.130 |
| 9 | Danen Gallant | 9 | 6/6:18.364 | 57.657 | 1:03.490 | 1:03.490 |
2wd Short Course (A Main)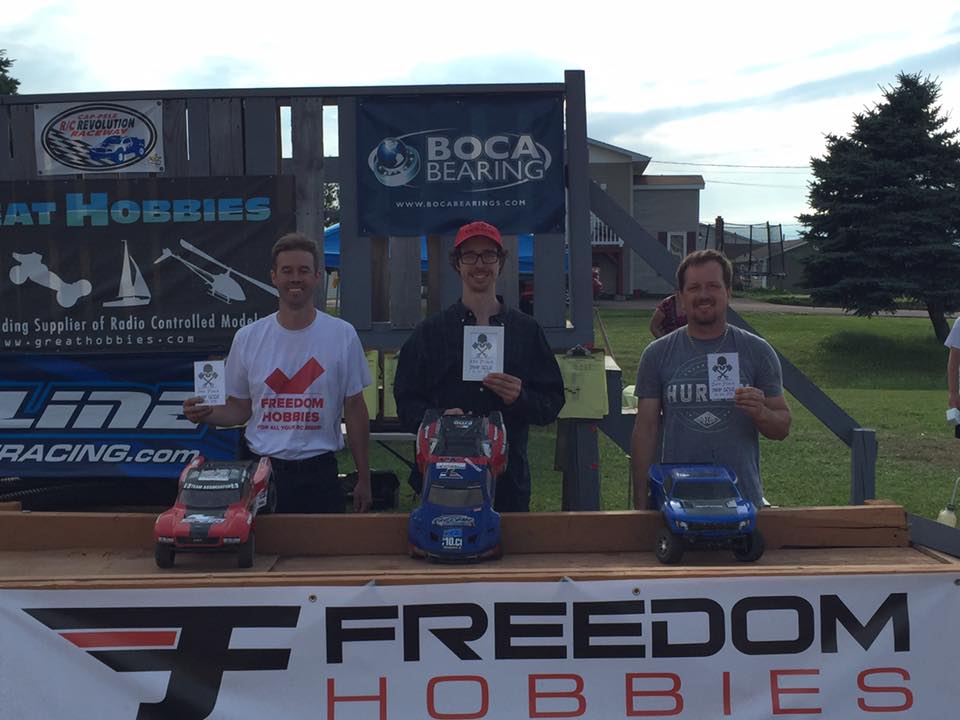 | | | | | | | |
| --- | --- | --- | --- | --- | --- | --- |
| | Driver Name | Car | Result | Fastest | Average | Top 5 Avg |
| 1 | Jeremy Sherriff [TQ] | 1 | 10/6:37.034 | 37.702 | 39.984 | 38.178 |
| 2 | Serge Hache | 2 | 9/6:14.539 | 36.855 | 41.894 | 38.338 |
| 3 | Patrick Last | 3 | 9/6:24.384 | 39.958 | 42.442 | 41.002 |
| 4 | Eric D'amours | 4 | 8/6:46.411 | 46.022 | 51.045 | 49.717 |
4wd Short Course (A Main)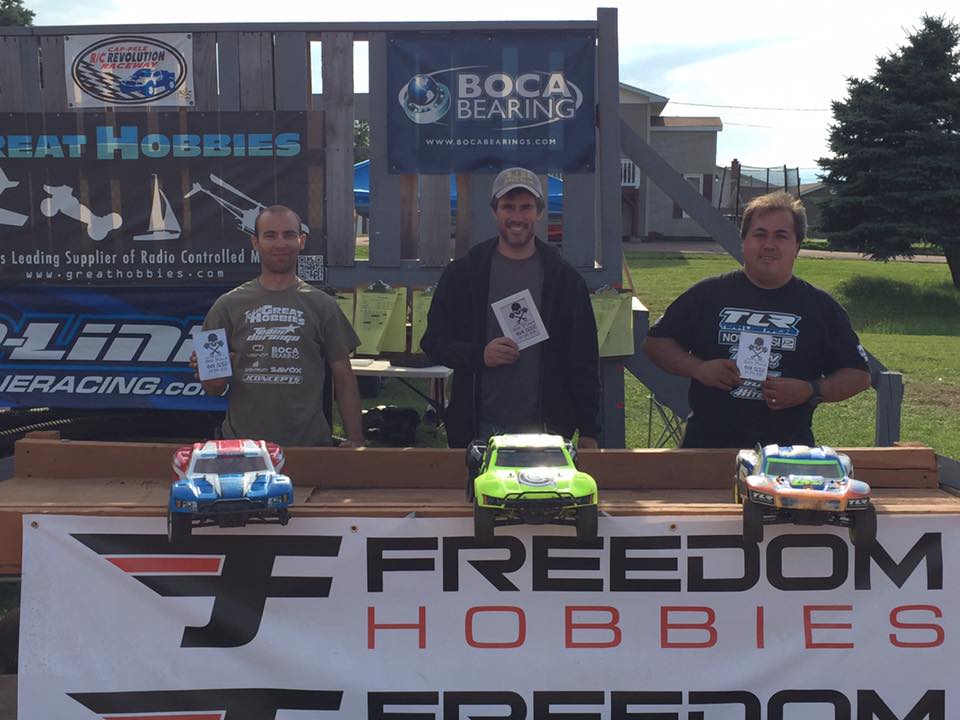 | | | | | | | | |
| --- | --- | --- | --- | --- | --- | --- | --- |
| | Driver Name | Car | Result | Fastest | Average | Top 5 Avg | Top 10 Avg |
| 1 | Gregg Lawton [TQ] | 1 | 11/6:22.380 | 33.610 | 34.884 | 34.234 | 34.884 |
| 2 | Shane Foote | 2 | 11/6:25.626 | 33.544 | 34.817 | 33.941 | 34.817 |
| 3 | Stephane Doucet | 4 | 10/6:00.358 | 33.910 | 35.950 | 34.953 | |
| 4 | Gaetan Frenette | 3 | 10/6:27.218 | 34.612 | 38.112 | 36.658 | |
| 5 | Serge Hache | 5 | 10/6:35.503 | 35.543 | 39.640 | 37.814 | |
| 6 | George Thompson | 6 | 8/5:49.059 | 37.441 | 42.948 | 39.957 | |
4wd Short Course (B Main)
| | | | | | | |
| --- | --- | --- | --- | --- | --- | --- |
| | Driver Name | Car | Result | Fastest | Average | Top 5 Avg |
| 1 | George Thompson | 1 | 8/5:15.200 | 37.355 | 39.575 | 38.463 |
| 2 | Mathieu Leblanc | 4 | 7/5:16.903 | 43.128 | 45.185 | 43.592 |
| 3 | Chris Flewelling | 2 | 6/3:59.352 | 38.403 | 39.830 | 39.830 |
| 4 | Danen Gallant | 3 | 4/3:09.151 | 46.207 | 47.660 | |
| 5 | Gab Daigle | 5 | 0/0.000 | | | |
| 6 | Mike Belanger | 6 | 0/0.000 | | | |
1/8 Electric Buggy (A Main)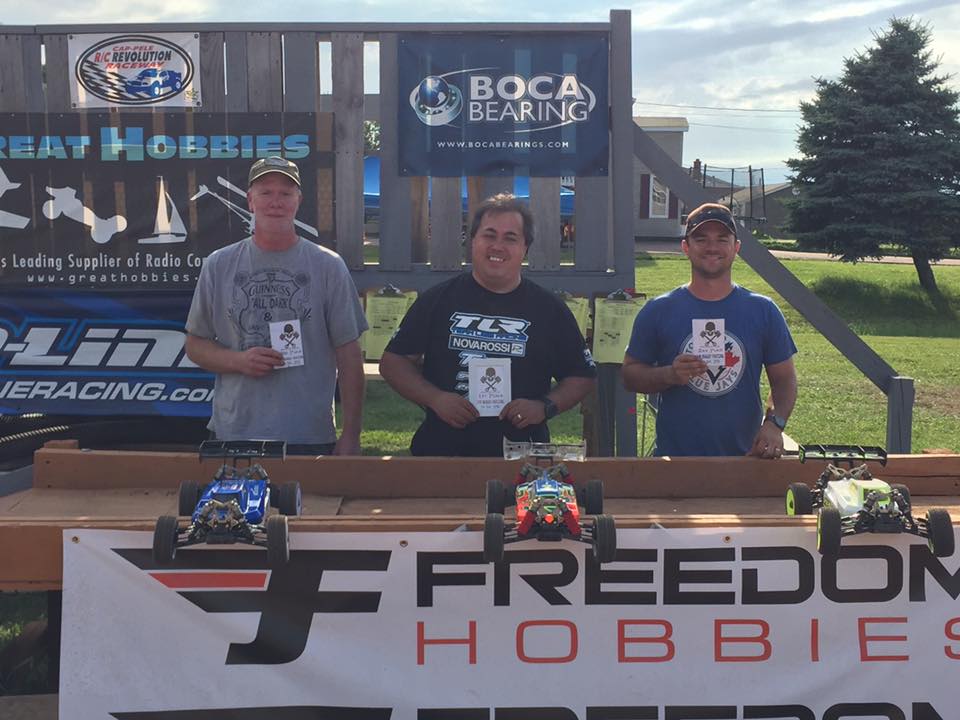 | | | | | | | | |
| --- | --- | --- | --- | --- | --- | --- | --- |
| | Driver Name | Car | Result | Fastest | Average | Top 5 Avg | Top 10 Avg |
| 1 | Shane Foote [TQ] | 1 | 11/6:19.503 | 32.186 | 34.521 | 32.617 | 34.521 |
| 2 | Gaetan Frenette | 3 | 11/6:23.862 | 33.072 | 34.885 | 33.924 | 34.885 |
| 3 | Dave Robinson | 2 | 10/6:00.611 | 33.182 | 35.934 | 33.739 | |
| 4 | Chris Flewelling | 6 | 10/6:30.709 | 34.264 | 38.888 | 35.659 | |
| 5 | Serge Hache | 4 | 9/6:03.020 | 33.149 | 39.942 | 37.002 | |
| 6 | Biggs Air | 7 | 8/6:09.454 | 38.400 | 46.955 | 40.946 | |
| 7 | Mike Belanger | 5 | 8/6:47.428 | 41.354 | 51.851 | 45.496 | |
1/8 Truggy (A Main)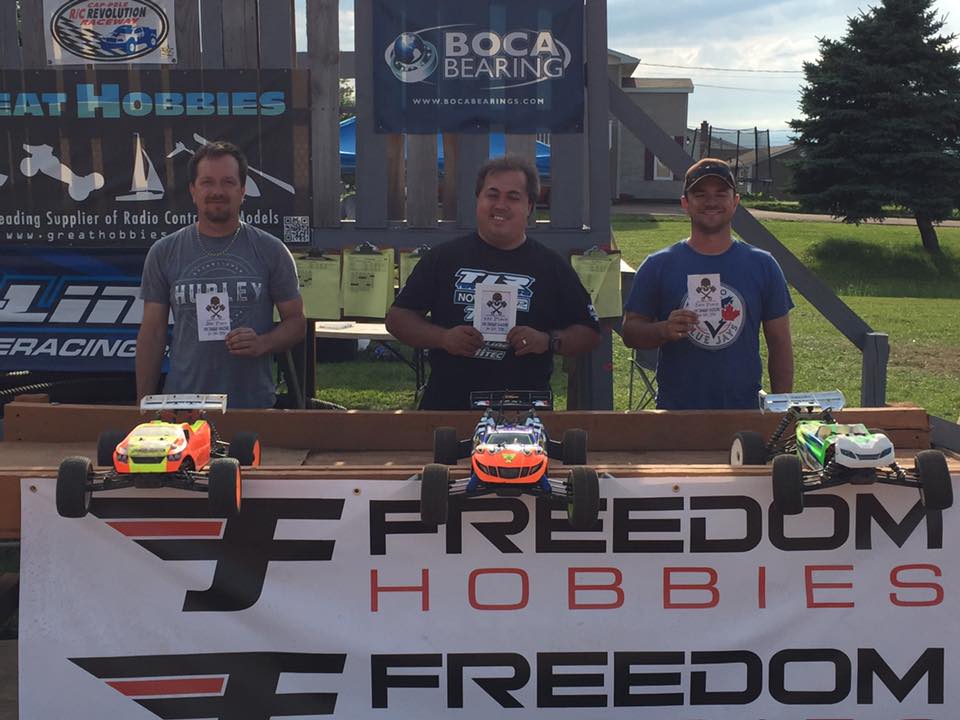 | | | | | | | | |
| --- | --- | --- | --- | --- | --- | --- | --- |
| | Driver Name | Car | Result | Fastest | Average | Top 5 Avg | Top 10 Avg |
| 1 | Shane Foote [TQ] | 1 | 12/6:28.256 | 30.266 | 32.439 | 31.245 | 31.911 |
| 2 | Gaetan Frenette | 2 | 10/6:00.332 | 31.686 | 36.041 | 33.384 | |
| 3 | Serge Hache | 4 | 10/6:29.009 | 34.632 | 39.072 | 36.720 | |
| 4 | Patrick Last | 5 | 10/6:31.832 | 35.499 | 38.899 | 36.634 | |
| 5 | Mike Belanger | 3 | 8/5:26.563 | 18.287 | 33.896 | 27.771 | |
| 6 | Chris Flewelling | 6 | 8/6:07.975 | 37.883 | 45.267 | 42.040 | |
| 7 | George Thompson | 7 | 4/3:09.906 | 40.257 | 52.411 | | |
1/8 Nitro Buggy (A Main)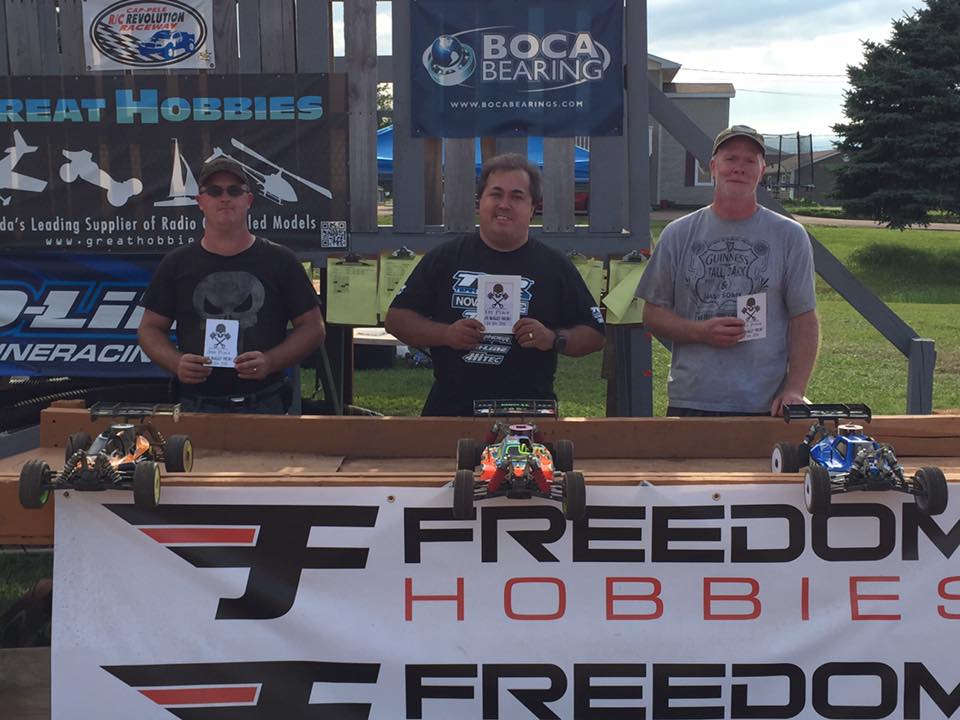 | | | | | | | | | |
| --- | --- | --- | --- | --- | --- | --- | --- | --- |
| | Driver Name | Car | Result | Fastest | Average | Top 5 Avg | Top 10 Avg | Top 15 Avg |
| 1 | Shane Foote [TQ] | 1 | 27/15:11.625 | 32.182 | 33.861 | 32.454 | 32.656 | 32.942 |
| 2 | Dave Robinson | 2 | 26/15:31.869 | 31.641 | 35.570 | 32.161 | 32.723 | 33.410 |
| 3 | Adam Allen | 3 | 21/15:40.341 | 36.457 | 44.749 | 38.070 | 39.795 | 41.680 |