BlackFly R/C race number 4 was held Sept 4, 2016. A well attended race, and perfect track conditions. No dust and clay was just sticky enough to get good amount of traction. We even started to get some groove at some places.
In 2wd buggy B Main, Mathis Mallet and Jonathan Comeau Duguay battled it out for the 1st and 2nd place, while Frederic Cormier, running Stephane's 2wd buggy, got 3rd. All 3 bumped up in the A Main. We saw 2 new racers in 2wd buggy, Jacques Sonier and Miguel Collins.
In the 2wd buggy A main: Jonathan Goulette with his new Associated B6d got an early lead and never looked back, to finish 1 lap ahead of everyone. His buggy was flying through the track. Serge Hache finished 2nd and Dany Mallet got 3rd, but not without having to battle it up against his son, Mathis, for a few laps early in the main.
4wd short course: Jacques Sonier improved a lot in this class. Not only was he able to finish the race, but he was only 2 laps behind. His debut in 2wd buggy could explain this improvement. Stephane started in the pole position but after a rough start, managed to take back the lead and cruise to the finish line, overlapping everyone. Serge Hache got 2nd and Chris Flewelling finished 3rd.
1/8 buggy: With only Serge Hache and Mike Belanger able to run the main, Chris Flewelling was out, motor issues. Finishing order was the same as the start, Serge, Mike and Chris.
1/8 Truggy: Another new face in this class, Sebastien Adam, running a Erevo. He was at his first race and we will see him back for sure. Finishing order was the same as the start. Jonathan Goulette 1st, Serge Hache 2nd and Dany Mallet 3rd. Mike was out of this one, having mechanical problems.
2wd Buggy Results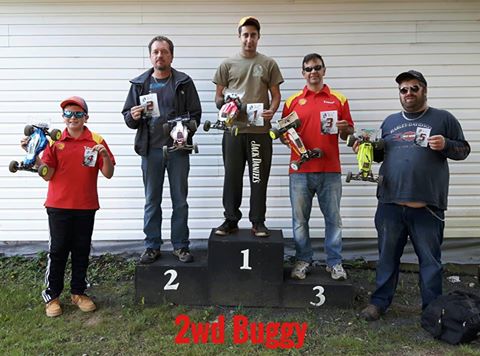 | | | | | | | | | | |
| --- | --- | --- | --- | --- | --- | --- | --- | --- | --- |
| Pos | Driver | Car # | Laps | Time | Fast | Behind | Qual # | Consistency | Std. Dev. |
| 1 | Jonathan Goulette | 1 | 14 | 7:02.763 | 27.988 | 0.000 | 2 | 92.40% | 2.30 |
| 2 | Serge Hache | 6 | 13 | 7:10.670 | 28.597 | 7.907 | 1 | 85.00% | 4.97 |
| 3 | Dany Mallet | 5 | 13 | 7:14.505 | 29.836 | 3.835 | 3 | 92.69% | 2.44 |
| 4 | Mathis Mallet | 7 | 12 | 7:05.276 | 31.406 | -9.229 | 4 | 91.69% | 2.94 |
| 5 | Jonathan Comeau Duguay | 8 | 12 | 7:26.765 | 33.954 | 21.489 | 5 | 89.51% | 3.91 |
| 6 | Frederic Cormier | 9 | 12 | 7:37.478 | 35.469 | 10.713 | 6 | 94.42% | 2.13 |
2wd Buggy B-Main Results
| | | | | | | | | | |
| --- | --- | --- | --- | --- | --- | --- | --- | --- | --- |
| Pos | Driver | Car # | Laps | Time | Fast | Behind | Qual # | Consistency | Std. Dev. |
| 1 | Mathis Mallet | 8 | 9 | 5:26.303 | 32.751 | 0.000 | 1 | 92.64% | 2.67 |
| 2 | Jonathan Comeau Duguay | 2 | 9 | 5:30.291 | 34.642 | 3.988 | 2 | 94.06% | 2.18 |
| 3 | Frederic Cormier | 3 | 7 | 5:33.779 | 40.953 | 3.488 | 3 | 86.34% | 6.51 |
| 4 | Jacques Sonier | 4 | 6 | 5:10.601 | 44.198 | -23.178 | 4 | 54.52% | 18.65 |
| 5 | Miguel Collin | 7 | 4 | 3:45.779 | 52.620 | -1:24.82 | 5 | 43.39% | 23.16 |
4wd SCT Results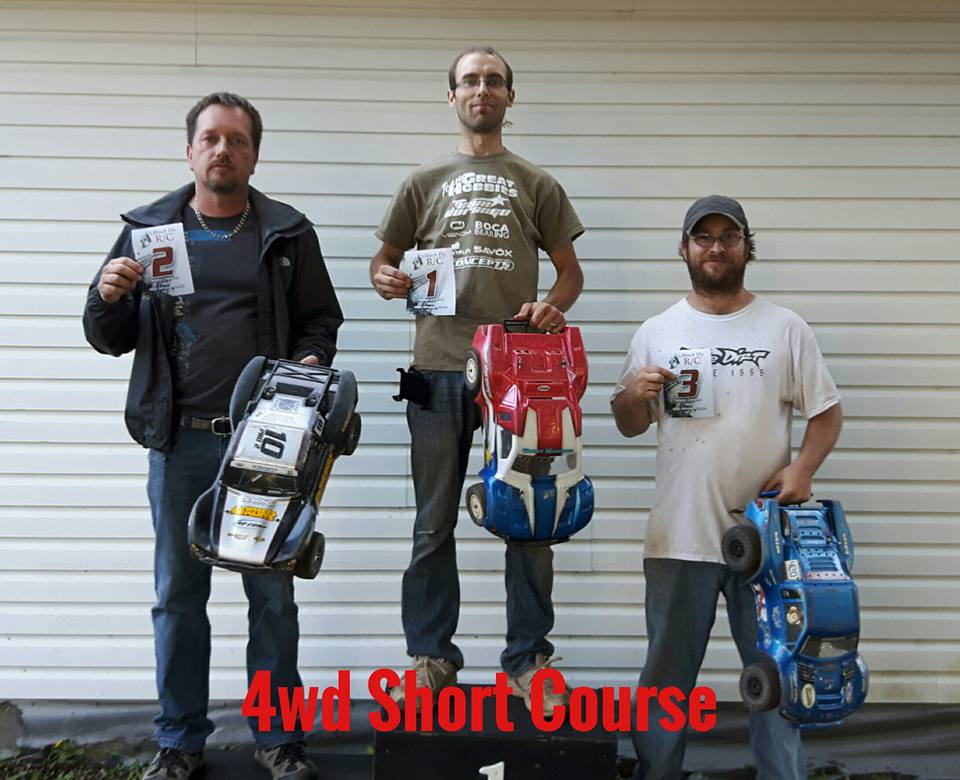 | | | | | | | | | | |
| --- | --- | --- | --- | --- | --- | --- | --- | --- | --- |
| Pos | Driver | Car # | Laps | Time | Fast | Behind | Qual # | Consistency | Std. Dev. |
| 1 | Stephane Doucet | 6 | 15 | 7:31.682 | 25.602 | 0.000 | 1 | 86.62% | 4.03 |
| 2 | Serge Hache | 7 | 14 | 7:20.599 | 26.544 | -11.083 | 2 | 85.95% | 4.42 |
| 3 | Chris Flewelling | 4 | 13 | 7:08.259 | 30.098 | -12.340 | 3 | 93.23% | 2.23 |
| 4 | Mike Belanger | 2 | 13 | 7:21.206 | 28.341 | 12.947 | 4 | 89.57% | 3.54 |
| 5 | Jacques Sonier | 1 | 11 | 7:34.606 | 35.217 | 13.400 | 5 | 88.80% | 4.63 |
| 6 | Sebastien Adam | 3 | 8 | 7:16.702 | 34.379 | -17.904 | 6 | 60.60% | 15.20 |
| 7 | Justin Cormier | 5 | 0 | 0.000 | 0.000 | -7:16.70 | 7 | — | — |
1/8 Buggy Results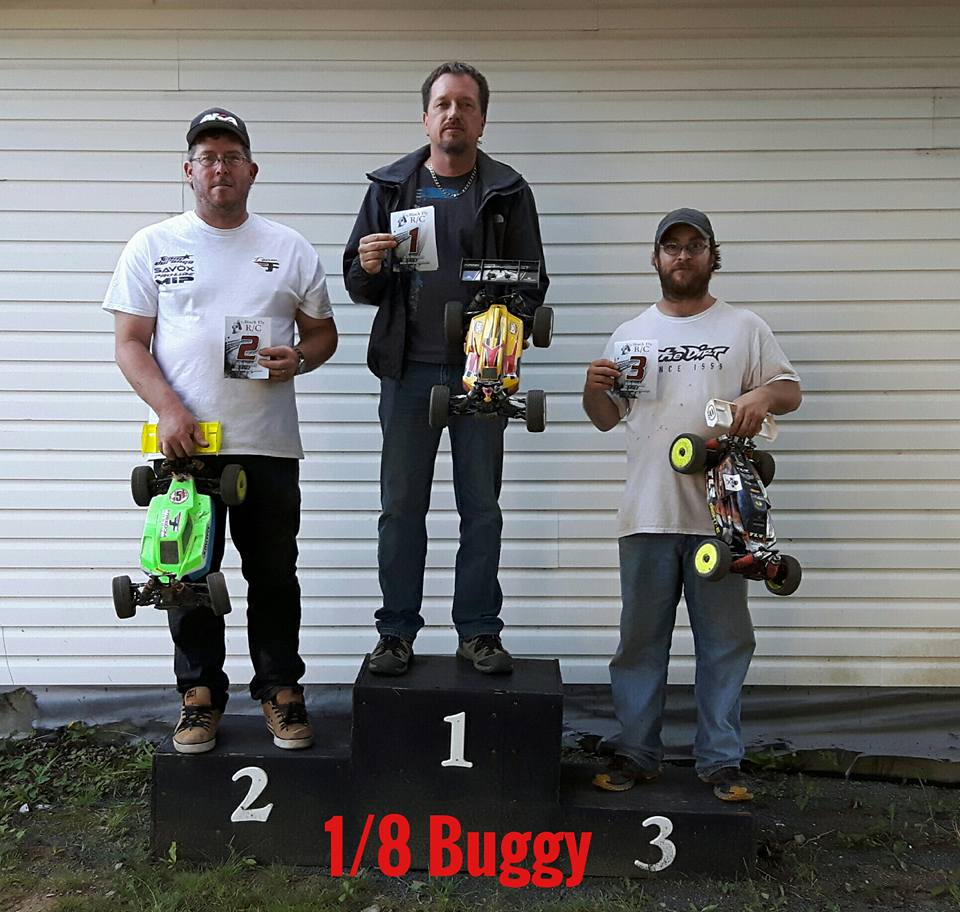 | | | | | | | | | | |
| --- | --- | --- | --- | --- | --- | --- | --- | --- | --- |
| Pos | Driver | Car # | Laps | Time | Fast | Behind | Qual # | Consistency | Std. Dev. |
| 1 | Serge Hache | 3 | 15 | 7:25.153 | 27.073 | 0.000 | 1 | 92.38% | 2.26 |
| 2 | Mike Belanger | 2 | 14 | 7:31.500 | 28.396 | 6.347 | 3 | 89.83% | 3.28 |
| 3 | Chris Flewelling | 1 | 0 | 0.000 | 0.000 | -7:31.50 | 2 | — | — |
1/8 Truggy Results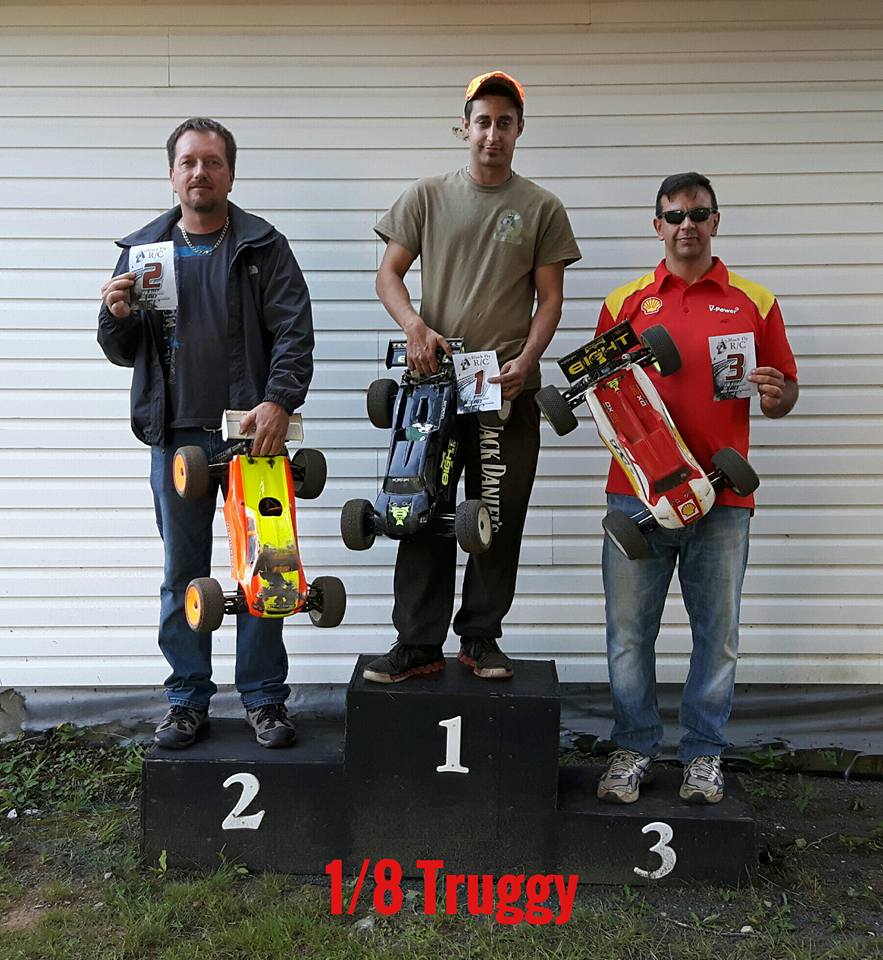 | | | | | | | | | | |
| --- | --- | --- | --- | --- | --- | --- | --- | --- | --- |
| Pos | Driver | Car # | Laps | Time | Fast | Behind | Qual # | Consistency | Std. Dev. |
| 1 | Jonathan Goulette | 5 | 15 | 7:22.808 | 25.070 | 0.000 | 1 | 77.97% | 6.50 |
| 2 | Serge Hache | 4 | 14 | 7:10.993 | 26.012 | -11.815 | 3 | 84.87% | 4.66 |
| 3 | Dany Mallet | 2 | 13 | 7:02.878 | 26.695 | -8.115 | 2 | 88.88% | 3.62 |
| 4 | Chris Flewelling | 1 | 12 | 7:27.610 | 30.320 | 24.732 | 4 | 87.26% | 4.75 |
| 5 | Sebastien Adam | 6 | 9 | 7:48.453 | 33.754 | 20.843 | 6 | 29.08% | 22.22 |
| 6 | Mike Belanger | 3 | 1 | 39.812 | 0.000 | -7:08.64 | 5 | 100.00% | 0.00 |