Welcome to the 2016 Cap-Pele Offroad Series! Thank you to all racers who participated and the sponsors of the series!
Points are scored where 1st place gets 2 points per racer in the class, 2nd place gets 2 less and so on.
A TQ finish gets 1 additional point (score in bold for TQ).
The Racers total will drop their 2 lowest point scores. Full series rules are posted online.
If 2 or more cars cannot start their final they will be scored as a tie for the DNS.
1/10 2WD Buggy Open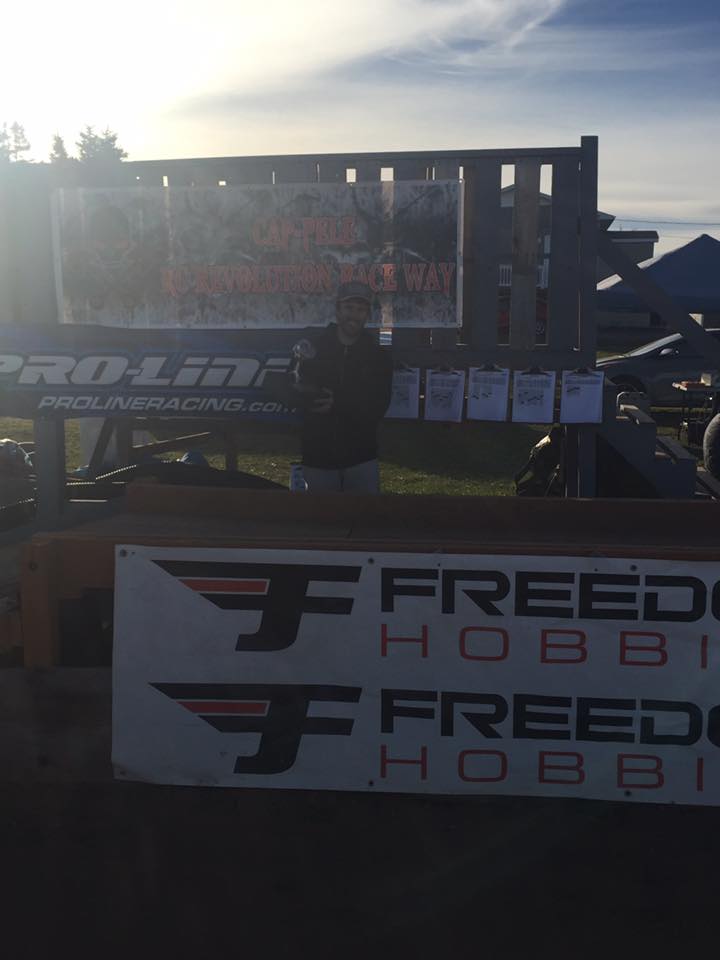 Driver Name
Chassis
Race #1
Race #2
Race #3
Race #4
Race #5
Race #6
Total
1
Gregg Lawton
Associated B4.1
13
11
19
29
10
12
73
2
Jeremy Sherriff
Associated

B4.2RS

10
8
12
26
6
 11
59
3
Stephane Doucet
Team Durango Dex210v3
8
6
10
24
0
8
50
4
Mark McKinnon
TLR 22 2.0
0
0
0
22
8
14
44
5
Gaetan Frenette
HobbyPro PRS1 v1
6
0
14
18
0
0
38
5
Dave Robinson
Associated

B4.2

0
0
8
20
4
6
38
6
Shane Foote
RC10
0
0
0
0
13
16
29
7
Serge Hache
TLR 22 2.0
0
0
16
12
0
0
28
8
Jonathan Goulette
Associated B6D
0
2
0
16
0
0
18
8
Mathieu LeBlanc
TLR 22 2.0
2
0
4
10
2
0
18
9
William Muirhead
0
0
0
14
0
0
14
9
Chris White
Associated B5M
14
0
0
0
0
 0
14
9
Mike Belanger
Associated

B4.2

4
4
6
0
0
 0
14
10
Brandon McCormick
0
0
0
8
0
0
8
10
Danen Gallant
TLR 22 2.0
0
0
2
6
0
0
8
10
Ben Glazebrook
0
0
0
4
0
4
8
11
Jacques Sonier
 Team Durango Dex210v3
0
0
0
4
0
2
6
Total Racers: 17
1/10 2WD Short Course Open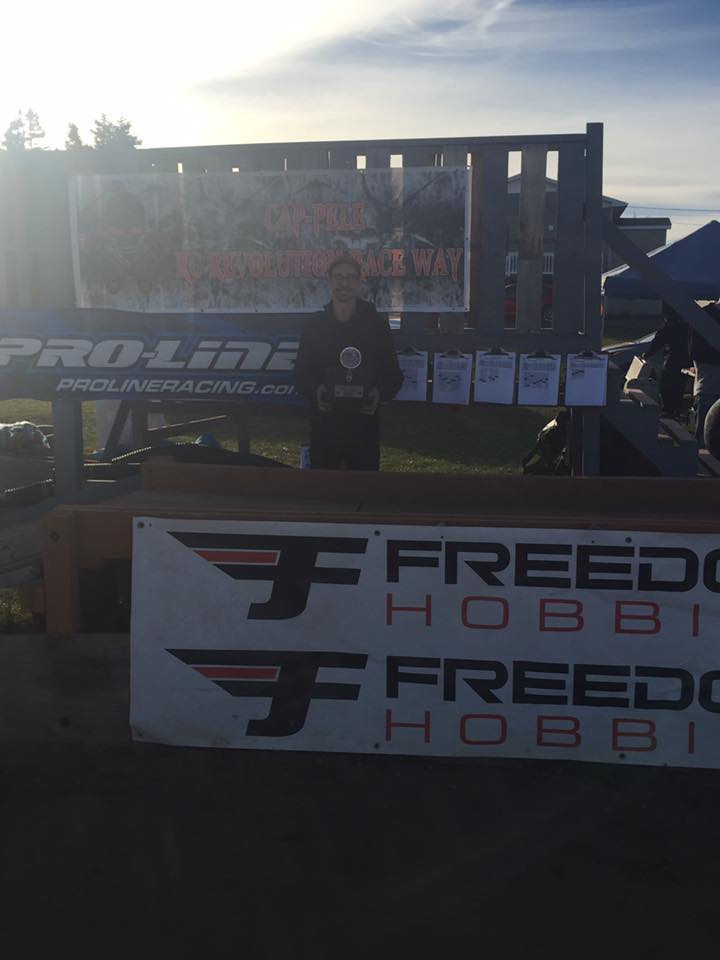 Driver Name
Chassis
Race #1
Race #2
Race #3
Race #4
Race #5
Race #6
Total
1
Jeremy Sherriff
Associated SC10
6
9
11
12
0
11
43
2
Kyle McKinnon
Losi 22S CT 2.0
0
0
0
11
11
12
34
3
Eric D'Amours
Traxxas Slash 2wd
4
4
4
0
2
8
20
4
Patrick Last
Associated SC10
0
2
6
0
8
2
18
5
Serge Hache
Traxxas Slash 2wd
0
0
8
8
0
0
16
6
Ben Glazebrook
Traxxas Slash 2wd
0
0
0
2
6
4
12
7
Ethan White
Associated SC10.2
9
0
0
0
0
 0
9
8
Adam Allen
HPI Blitz
0
0
2
0
0
6
8
9
Gilbert Leclair
 

Losi xxx-sct

0
6
0
0
0
 0
6
9
Luke MacAusland
0
0
0
6
0
0
6
9
Mike Belanger
Associated SC10
2
0
0
0
4
 0
6
10
William Muirhead
0
0
0
4
0
0
4
Total Racers: 12
1/10 4WD Short Course Open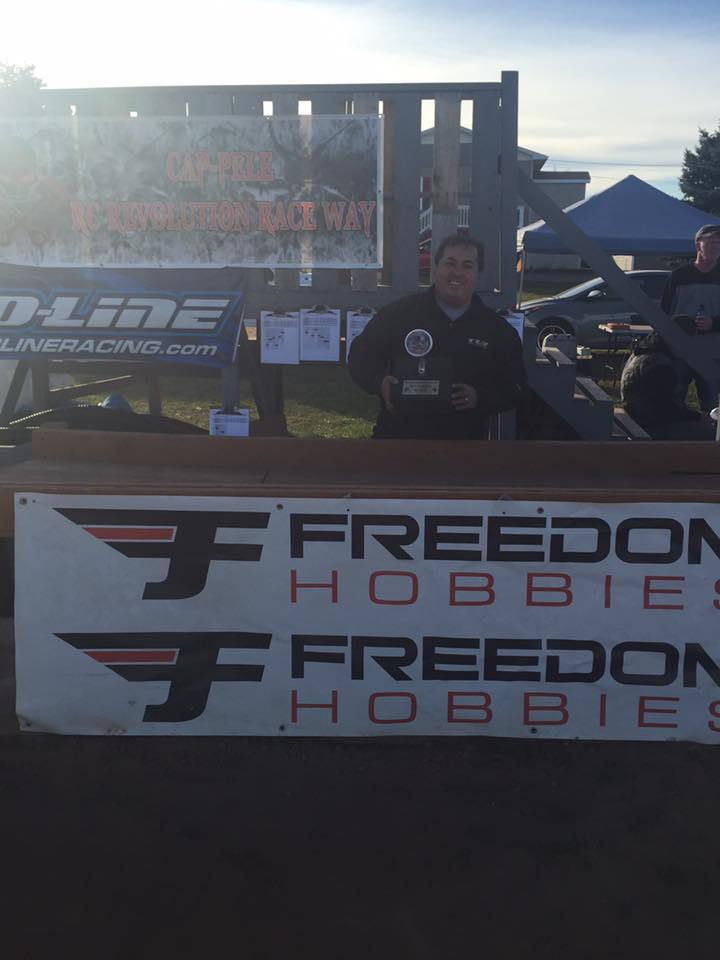 Driver Name
Chassis
Race #1
Race #2
Race #3
Race #4
Race #5
Race #6
Total
1
Shane Foote

TLR SCTE 2.0

24
19
20
33
21
17
98
2
Gregg Lawton
Traxxas Slash LCG
23
16
23
28
18
18
92
3
Stephane Doucet

Team Durango Desc410v2

16
14
18
30
0
12
78
4
Gaetan Frenette

TLR SCTE 2.0

20
0
16
20
16
14
72
5
Chris Flewelling

Traxxas Slash 4wd

14
2
8
22
12
10
58
6
Mike Belanger

TLR/MIP Pro4mance

12
8
4
16
4
8
44
7
George Thomson

TLR SCTE 1.0

4
10
12
12
6
0
40
8
Serge Hache

Traxxas Slash

0
0
14
24
0
0
38
9
Zachery Rodgers
Traxxas Slash
0
0
0
14
14
6
34
10
Mathieu LeBlanc
TLR SCTE 2.0
8
0
10
6
8
0
32
11
Luke MacAusland
0
0
0
26
0
0
26
12
Gab Daigle
 

TLR SCTE

1.0
0
0
4
18
0
0
22
13
Jacques Sonier
Team Durango Desc410v2
10
0
0
6
0
4
20
14
Shawn Bower
TLR/MIP Pro4mance
18
0
0
0
0
0
18
15
Danen Gallant
TLR/MIP Pro4mance
0
4
6
6
0
0
16
16
Jonathan Goulette
TLR SCTE 2.0
0
12
0
0
0
0
12
17
Jared Rodgers
Traxxas Slash
0
0
0
10
0
0
10
17
Gislin Leblanc

TLR SCTE

1.0
0
0
0
0
10
0
10
18
Patrick Cormier
Traxxas Slash
0
0
0
8
0
0
8
19
Justin LeBlanc
6
0
0
0
0
0
6
19
Gilbert Leclair

Team Durango

 

DESC410

0
6
0
0
0
0
6
20
Will Bower
TLR/MIP Pro4mance
4
0
0
0
0
0
4
21
Aaron Rogers
Traxxas Slash
0
0
0
0
2
0
2
21
Ben Glazebrook
Traxxas Slash
0
0
0
0
0
2
2
Total Racers: 24
1/8 Buggy – Electric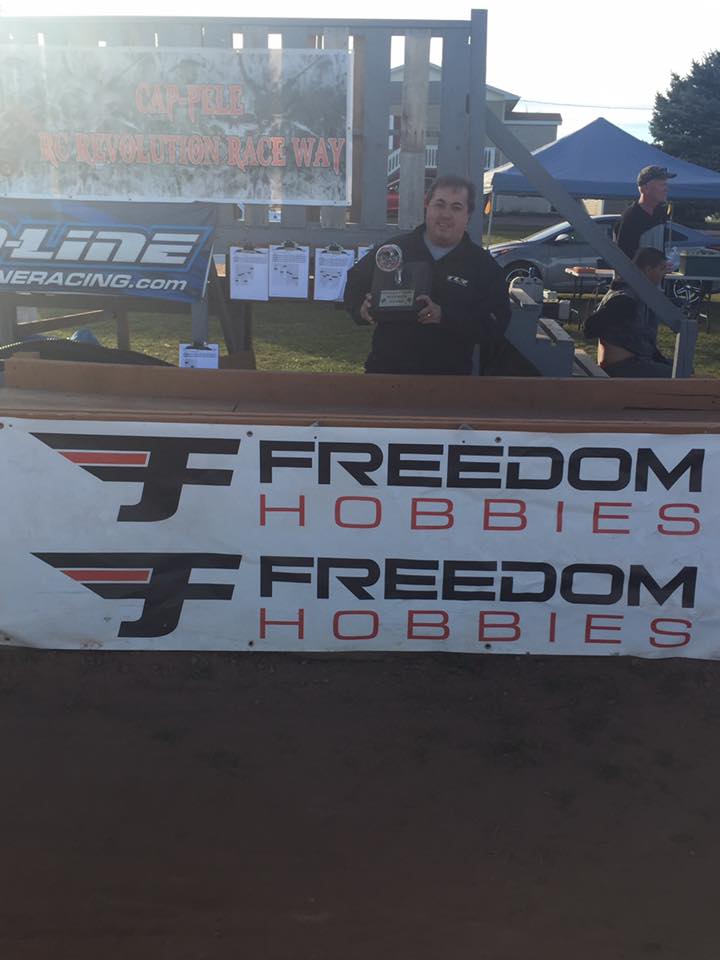 Driver Name
Chassis
Race #1
Race #2
Race #3
Race #4
Race #5
Race #6
Total
1
Shane Foote

TLR 8IGHT-E 3.0

14
9
15
21
17
17
70
2
Gaetan Frenette
TLR 8IGHT-E 3.0
10
0
12
16
14
14
56
2
Dave Robinson
TLR 8IGHT-E 3.0
0
0
10
18
12
6
46
3
Chris Flewelling
TLR 8IGHT-E 2.0
8
6
8
10
8
12
38
4
Mike Belanger

Team Durango

DEX8
4
2
2
14
10
4
32
5
George Thomson
Hot Bodies D812
2
4
0
6
6
10
26
6
Chris White
Associated rc8.2E
16
0
0
0
0
 0
16
7
Ethan White
Associated rc8.2E
13
0
0
0
0
 0
13
8
Luke MacAusland
0
 0
0
12
 0
 0
12
8
Mathieu Leblanc
TLR 8IGHT-E 3.0
0
0
0
8
4
0
12
9
Serge Hache
TLR 8IGHT-E 2.0
0
0
6
4
0
0
10
10
Stephane Doucet
TLR 8IGHT-E 2.0
0
0
0
0
0
8
8
11
Will Bower
TLR 8IGHT-E 2.0
6
0
0
0
0
0
6
12
Brad Biggs
TLR 8IGHT-E 2.0
0
0
4
0
0
0
4
12 
William Muirhead
0
0
0
4
0
0
4
12
Ben Glazebrook
0
0
0
0
2
2
4
Total Racers: 16
1/8 Buggy – Nitro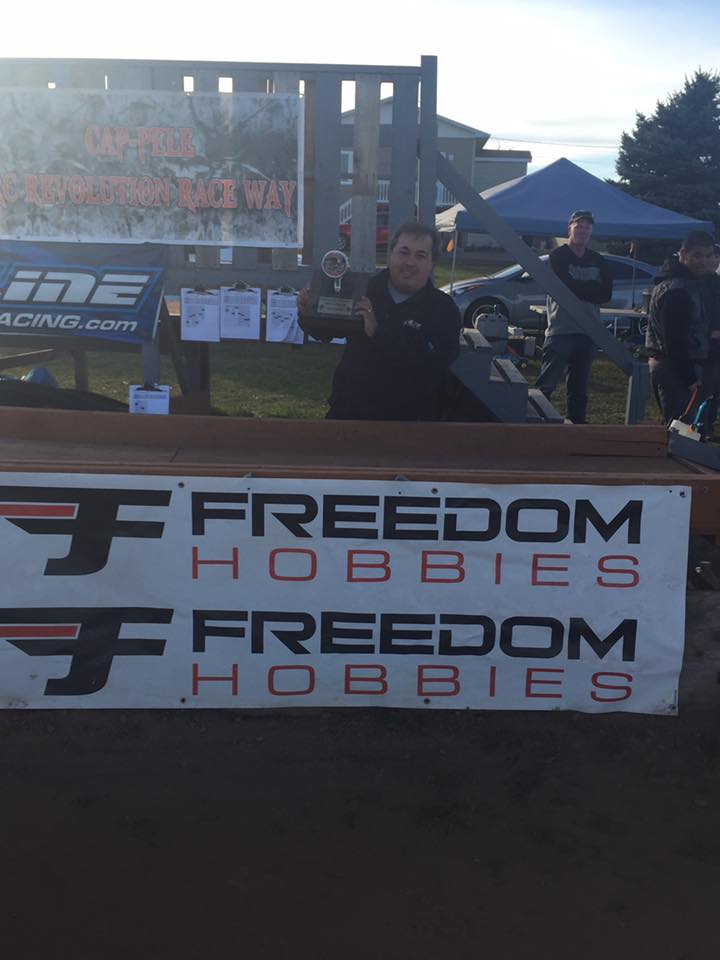 Driver Name
Chassis
Race #1
Race #2
Race #3
Race #4
Race #5
Race #6
Total
1
Shane Foote

TLR 8IGHT 3.0

11
7
9
9
11
 11
42
2
Dave Robinson

TLR 8IGHT 2.0

8
4
6
6
8
 8
30
3
Mike Belanger

 Team Durango DEX8

4
0
0
2
6
4
16
4
Chris Flewelling
TLR 8IGHT 2.0 EU
0
0
0
4
4
6
14
5
Adam Allen
 

TLR 8IGHT 1.0

0
2
4
0
0
2
8
5
George Thomson
 Hot Bodies D812
4
0
2
0
2
 0
8
6
Shawn Bower
TLR 8IGHT 2.0
6
0
0
0
0
0
6
Total Racers: 7
1/8 Truggy – Electric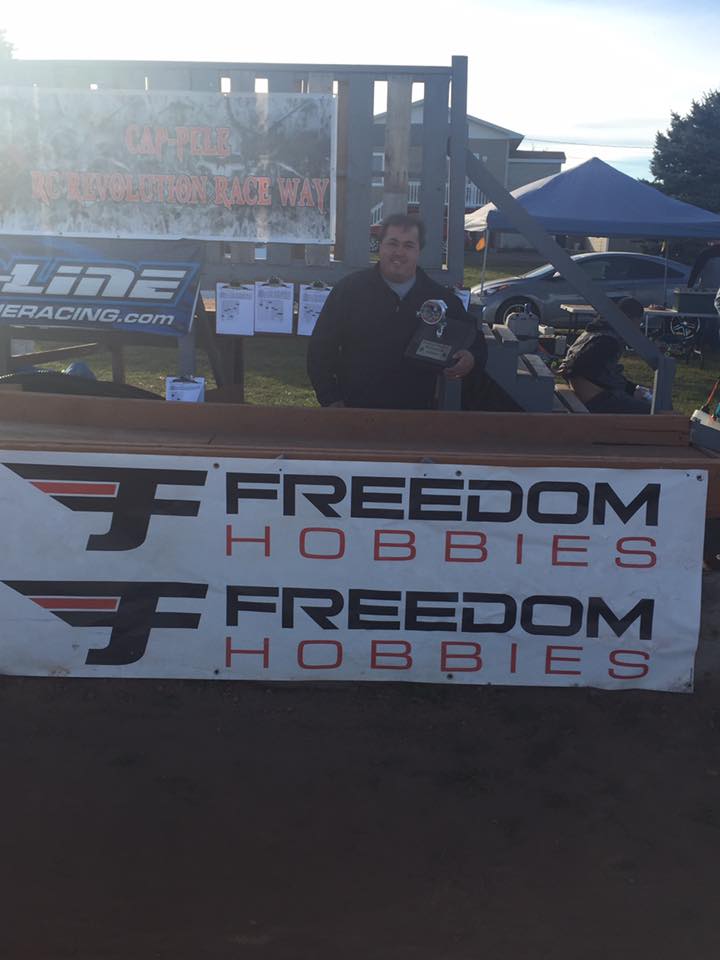 | | Driver Name | Chassis | Race #1 | Race #2 | Race #3 | Race #4 | Race #5 | Race #6 | Total |
| --- | --- | --- | --- | --- | --- | --- | --- | --- | --- |
| 1 | Shane Foote | TLR 8IGHT-T E 3.0 | 15 | 11 | 15 | 14 | 9 | 13 | 57 |
| 2 | Gaetan Frenette | Tekno ET48.3 | 12 | 0 | 12 | 13 | 6 | 8 | 45 |
| 3 | Mike Belanger | Tekno ET48.3 | 4 | 6 | 6 | 8 | 4 | 6 | 24 |
| 4 | Patrick Last | Tekno ET48.3 | 0 | 8 | 8 | 0 | 2 | 2 | 20 |
| 5 | Serge Hache | TLR 8IGHT-T E 2.0 | 0 | 0 | 10 | 6 | 0 | 0 | 16 |
| 6 | Stephane Doucet | Associated Rc8t | 0 | 4 | 0 | 0 | 0 | 10 | 14 |
| 7 | George Thomson | TLR 8IGHT-T E 2.0 | 4 | 2 | 2 | 4 | 0 | 0 | 12 |
| 7 | Jacques Sonier | Associated RC8t | 8 | 0 | 0 | 0 | 0 | 4 | 12 |
| 8 | Will Bower | TLR 8IGHT-T E 2.0 | 10 | 0 | 0 | 0 | 0 |  0 | 10 |
| 8 | Jonathan Goulette | Tekno ET48.3 | 0 | 0 | 0 | 10 | 0 | 0 | 10 |
| 9 | Shawn Bower | TLR 8IGHT-T E 2.0 | 6 | 0 | 0 | 0 | 0 |  0 | 6 |
| 9 | Chris Flewelling | Traxxas E-Revo | 0 | 0 | 4 | 2 | 0 | 0 | 6 |
Total Racers: 12
1/16 Open (truck/buggy/Monster Truck)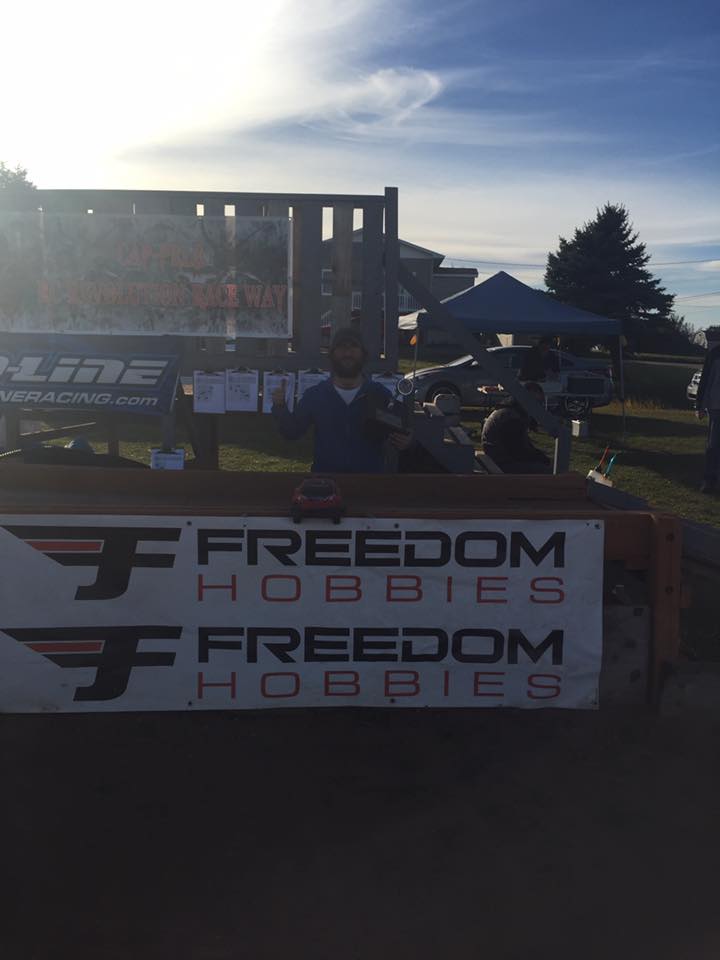 | | Driver Name | Chassis | Race #1 | Race #2 | Race #3 | Race #4 | Race #5 | Race #6 | Total |
| --- | --- | --- | --- | --- | --- | --- | --- | --- | --- |
| 1 | Chris Flewelling |  1/16 Traxxas slash | 0 | 0 | 0 | 6 | 8 | 6 | 20 |
| 2 | Ben Glazebrook |  1/16 eRevo | 0 | 0 | 0 | 3 | 3 |  9 | 15 |
| 3 | Mike Belanger |  1/16 Traxxas slash | 0 | 0 | 0 | 4 | 6 | 2 | 12 |
| 4 | Eric D'amours |   1/16 eRevo | 0 | 0 | 0 | 0 | 4 |  4 | 8 |